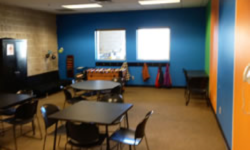 J-Zone is located within the Alan and Deanna Brody Lounge, and is open to children age 5 and older, and is a wonderful opportunity for children to have fun and be active while their parents are using the JCC facility and being active. Our trained, and CPR & First Aid certified, J-Zone staff are here to engage children in a variety of mentally and physically stimulating activities, whether it's the X-Box Kinect where they use body movement to navigate our sports and dance games, or they're playing air hockey, foosball, dodgeball in the gymnasium, or out on the playground!
J-Zone is the place for the youth of the JCC!
J-Zone Policies and Guidelines:
Parents must remain on the JCC premises at all times while their child is at J-Zone.
Maximum stay is 2 hours.
Children will not be accepted if ill or running a fever.
J-Zone is a Technology free zone! Leave your electronics, phones, games, at home.
J-Zone is a All Nut free Zone!
Parents must sign their child in. If another parent or guardian is picking up child, J-Zone counselor Needs to be informed.
Parents' Night Out Program Every Other Saturday
6pm – 10pm. Children 5–12 enjoy a night a fun games, sports, movies and are provided dinner.
Sign up today in Membership. $20 and a sibling discount.
For more questions call Jack at 505-348-4511 or email him at jack@jccabq.org
J-Zone Hours
Fall, Winter & Spring Hours
| | |
| --- | --- |
| Monday – Thursday | 3 pm – 8 pm |
| Friday | 3 pm – 6 pm |
| Saturday & Sunday | 8 am – 12 pm |
Summer Hours
| | |
| --- | --- |
| Monday – Thursday | 8 am – 12 pm, 3 pm – 8 pm |
| Friday | 8 am – 12 pm, 3 pm – 6 pm |
| Saturday & Sunday | 8 am – 12 pm |