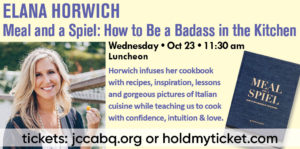 Tickets also available at HoldMyTicket
Elana Horwich has been described as Amy Schumer meets the Dalai Lama meets Julia Child. A world-traveling, self-taught chef, with a master?s degree in Jewish Italian History, Elana started a cooking school she named 'Meal and a Spiel.' She infuses her cookbook with recipes, inspiration, lessons and gorgeous pictures of delectable Italian cuisine while teaching us to cook with confidence, intuition and love.
mealandaspiel.com
This event is presented in collaboration with the the Jewish Book Council. Elana will present her cookbook, answer questions, and sign books. To purchase books in advance, click here! You can also purchase books at the JCC, or our bookstore partners, Bookworks (4022 Rio Grande Blvd NW) and Page 1 Books (5850 Eubank Blvd NE). Books will also be available for purchase at the event.
Tickets are $20 in advance and $22 at the door. Questions? Call 332-0565 x 4518.