Kettlebell Training is an excellent way to torch fat and build muscle, endurance and better mobility. This is a kettlebell-focused challenge focused on fat-loss and building strength.
This 10-week challenge will include:
* Weigh-in and base strength test at both the start and finish of the program
* 3 training sessions each week: 2 with Tracee, and one on your own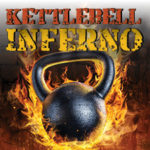 * One 30 min. nutrition coaching class every other week (5 total)
* A private Facebook group with extra info, support and encouragement
* Prizes presented to top man and woman most transformed in all areas
* Top female from 2018 challenge lost 18 lbs & 5% body fat! Top male gained 5lbs muscle & lost 2% body fat
Tracee has been teaching and training with Kettlebells for over 8 years and is a Precision Nutrition Coach. Are you ready to transform your body and take your training to the next level? This is the challenge for you!