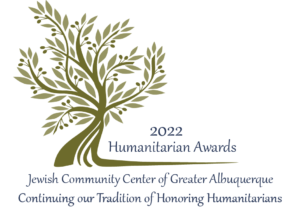 The NM Humanitarian Awards has been hosted by the JCC since 2008.  This award is inclusive of the entire state of NM and recognizes individuals, organizations and companies who have done extraordinary work and set an example for others by demonstrating a passion for Philanthropy, Human Welfare, Social Reform, and Values-Based Investing.
Watch the 2022 NMHA Event Video
View the 2022 NMHA Event Photographs
View the 2022 NMHA Event Photographs
2022 New Mexico Humanitarian Award Honorees:
Rev. Charles E. Becknell Sr. PhD
Lee Blaugrund
Lenya Heitzig
Claudia Medina
Harold B Albert Jewish Community Service Award:
Shlomo Karni PhD

Thank you to everyone who supported and attended the 2022
New Mexico Humanitarian Awards. We look forward to seeing you again at the 2023 event!